Erik Bye Memorial Prize is awarded annually during the Protestfestival opening program.
Erik Bye Memorial Prize is given to a person who over a long period oftime has shown a fearless and passionate commitment to influence the development the community and society in positive way – locally, nationally or internationally.
Candidates must have shown the courage to go against the flow and fashionable standpoints. Fighting for justice, peace and human dignity – without compromise.
The Protestfestival nominates the candidates. The decision on who will recieve the prize is made in consultation with Erik Bye's immediate family.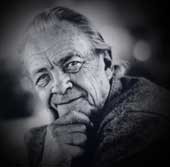 About Erik Bye:
Erik Bye was known for his generosity, his ability to think of others. He was genuinely opposed to all war. He also criticized Norway for engaging in wars and produce weapons. Erik Bye used his immense celebrity status to defend the weakest. Norway loved him. When he died the writer Levi Henriksen wrote an obituary titled "Whom shall we listen to now?".
"Erik Erikssønn Bye (March 1, 1926 – October 13, 2004) was a versatile Norwegian journalist, artist, author, film actor, folk singer and radio and television personality. Bye enjoyed immense popularity with generations of Norwegians, and his songs and programs on radio and television were magnets to audiences of all ages. He was noted for his gift of being equally comfortable with the King of Norway and a random character met on the street. In 1978 the King of Norway made him a Knight, 1st Class in the Royal Norwegian Order of St. Olav. In 2005 he was voted the third greatest Norwegian of the 20th century by the viewers of NRK, behind King Olav V and Einar Gerhardsen." -wiki
Erik Bye Memorial Prize is a statuette in bronze, made by sculptor Arne Vinje Gunnerud (1930-2007). Gunnerud was mentored by Per Palle Storm 1952-55. He broke with the classical tradition early, and based on archaic and primitive art he created his distinctive motifs and style. Here he found a visual language and symbolism, giving him opportunities to go into the fundamental questions. Arne Vinje Gunnerud received in 2004 the award Order of St. Olav Knight of 1st class and was awarded Palle Storms Honorary Award in 2005.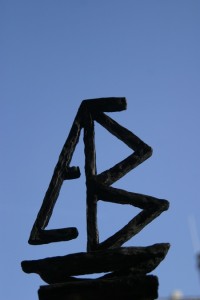 Winners:
2016: Kris Kristofferson
2015: Bob Geldof
2014: Amal Aden
2014: Dalai Lama
2013: Per Fugelli
2012: Ada Sofie Austegard
2011: Johan Galtung
2010: Erik Damman
2009: Mads Gilbert
2008: Cindy Sheehan
2007: Erling Borgen
2006: Hanne Sophie Greve
2005: Åge Aleksandersen