Christianssand Protestfestival – A festival against apathy and indifference.
A Nordic festival of values. One week every year filled with debates, discussions, culture and challenge of opinions.
The Protestfestival was held for the first time in July 2000. The goal was to be a protest against powerlessness and indifference, for involvement and action.
The Protestfestival started as pure madness and grew bigger and bigger every year. In recent years the festival has gone from local newspaper's first article, "let it not happen again" to become a power. (The same newspaper).
The aim is that everyone should be given the chance to speak – whether you are a professor, a warehouse worker, musician, writer or consultant. The festival is politically and religiously independent and known as "the little festival with the big questions."
We do not care what our participants think, but that they actually have opinions about something.
Read more about Protestfestival history

---
Program Protestfestivalen 2016:
Sunday 4. September

Snadderkiosken, Elvegata:
21:00  Flower ceremony at the Eric Bye Monument

Monday 5. September – Tribute and Memorial Prize.

Frk. Larsen, Markensgate 15:
12:00  OPINION:  Can we break the "circle of evil"?
13:00 Warm-up party for the awarding ceremony in the evening
Bankkjelleren, Markensgate 11:
15:00  Dinner for the award winner. (Private arrangement, by invitation only.)
Kick Cafè, Dronningens gate 8:
18:00 Celebration party and awarding of Eric Byes Memorial Prize
20:30 CONCERT:  Kris Kristofferson (USA), ERIC ANDERSEN and Norwegian friends

Tuesday 6. September – Indifference

Bankkjelleren, Markensgate 11
13:00  Indifference cafè   Christian Borch:  The future of the prosperity state
Håndverkeren, Rådhusgaten 15, Øvre Torv:
18:00 Debate:  INDIFFERENCE – Underclass – Insecurity – Exlution – Unhealth:  The future of the Nordic countries?
Kick Cafè, Dronningens gate 8:
20:00  Guy Standing:  «Retainer Capitalism: The Coming Precariat Revolt»
21:00  Debate:  Does Norway have to do as Finland, to consider retainer capitalism in preventing increased indifference?

Wednesday 7. September

Resting day. Our Triztan-tent in Skippergada will be manned from 12:00 – 16:00

Thursday 8. September – Shame

Portalen, Strandpromenaden 30, Tresse:
13:00  WORKSHOP:  Butoh dans, a Japanese "Protest-dance"
Håndverkeren, Rådhusgata 15, Øvre Torv:
17:30  PERFORMANCE:  Spark-of-death and fear-of-life
18:00  LECTURE:  Monika Kørra – Feeling of shame and survival after sexual abuse
20:00  AWARD CEREMONY:  The "Shameless" prize is presented by the organisation "Sex og Samfunn" for the first time
20:30  DEBATE:  The many faces of shame – From exclusion to inclusion:  About integration and how to take your own person back

Fridag 9. September – Religion

Portalen, Strandpromenaden 30, Tresse:
12:00  LECTURE:  The Jesus Soldier
Misjonshuset, Kristian IV gate 35:
13:00  VALUE CAFÈ:  "Life, death, and the meaning of everything."
Frikirken, Tollbodgata 64:
18:00  CONVERSATION:  Where are the Norwegian "Chief of Spirits"?
20:00  DEBATE:  "The Jesus Soldier" for "The King of Kings", or "King in my own life"?

Saturday 10. September – Freedom

Portalen, Strandpromenaden 30, Tresse:
12:00  CONVERSATION:  Vebjørn Selbekk – Freedom or silence in the times of terror?
Klubben, Vestre Strandgate 8:
13:00  LECTURE:  Philosofer Carsten Graff (DK)  "Drop the couples"
17:30 – 23:00  The festivals Partynight: Musical contribution:  Simen Mitlid
18:00  Partynight:  "It's so weird here."
19:00  Partynight:  "Norwegians seen through foreign eyes."
20:00  Partynight:  "From controversial to politically correct."

Sunday 11. September – Film Sunday

Håndverkeren, Rådhusgata 15:
12:00 – 18:00  FILM SUNDAY
Misjonshuset, Kristian IV gate 35:
19:00  DEBATE:  Where did the "Jesus movement" from the 70's disappear to? and CONCERT: "Jesus Freaks" with HES & Rune Larsen is back!
---
Sir Bob Geldof to Cristiansand Protest Festival 2015.
Wednesday 16th September 2015, the singer, songwriter and activist Bob Geldof will participate on the festivals theme day against poverty and inequality.
Kick is booked as arena for a long evening that will include a debate about rise in inequality in Norway and poverty in the world.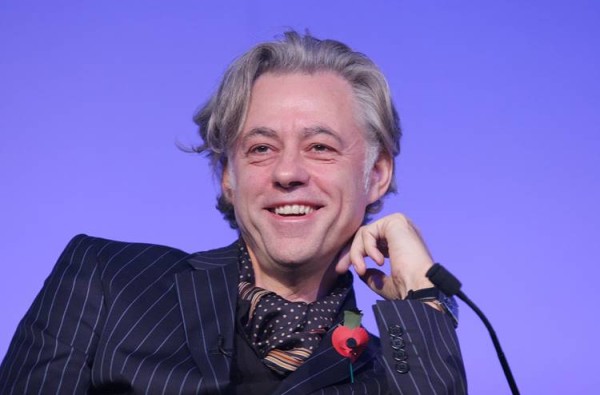 Bob Geldof is known as the man who created the Band Aid initiative, the massive Live Aid and, twenty years later, the Live 8 concerts, was the frontman and songwriter in Boomtown Rats that received a number of international mega-hits including the famous "I Don't Like Mondays" in 1979. A song with a serious text about a shooting that same year where a 16 year old girl shot ten people because she did not like Mondays.
Now 63 years old Geldof is still as involved as ever in the plight of the poor and overcoming adversity. In 1985 when he created Live Aid is was a call for charity to help 32 million dying people. 20 years later he created Live 8 which was a call to action to motivate the G8 countries to drop debt and unfair trade agreements and bring justice to the relationship with the African continent. In 2014 he added the 'third leg of the tripod of support for Africa' by creating a USD 500 million private equity fund to bring investment to African business and commerce.
In 1986 Bob was honoured with a Knighthood by Queen Elizabeth II in recognition of his outstanding work for the poor and disadvantaged. He has subsequently received the North South award and The Nobel Man of Peace award from the Nobel Laureates for his ongoing commitment to the cause. Thirty years he is recognised as being personally instrumental in many of the positive changes in the continent.
MDGs that engage Sir Bob include halving extreme poverty, ensuring education for all, empowering women, reducing child mortality, reducing maternal mortality, combating the spread of HIV / AIDS, Malaria and other diseases, increasing the proportion of people with access to safe drinking water.
This year it has been 30 years since the great Live Aid concert that gathered millions of TV viewers and audiences worldwide. It is 40 years since he made his debut as an artist.